Channel Country

South West Queensland September 2007



Yes the time had finally arrived and we we're to set off on another OutBack Adventure and this time we had decided to head for the Channel Country of South West Queensland. We love the outback and as our Bushtracker Rego Number is QOE..."Queensland Outback Experience"...we felt it only fitting that this was our plan.
Julie had a week with her Mum & Dad while I picked up a few things and got the van ready to go and then we were off. We left from Hervey Bay on a windy and showery day and headed West. It was raining most of the way to Chinchilla where we joined the Warrego Highway and the sun was out. We drove on to Wallumbilla to spend our first night with some old friends we hadn't seen for a couple of years. Stephen & Ruth have a beef property there and it was the best we had seen the country look this century.
All the way from the coast the road was lined with yellow wildflowers and the county was so green as far as the eye could see...just a pleasure to see. We hope they get some follow up rain and the coming wet season is the end of the worst drought.
The next day we went to Mitchell a few hours down the road and spotted a Bushtracker on the way, pulled up for lunch.
We camped at Fisherman's Rest 5 k's West of Mitchell. It's a nice waterhole with nice shady gums and plenty of sun for our panels. The only facility here is a composting toilet, so it's not as crowded as the campground at the Glenn Turner Weir, 3 k's East.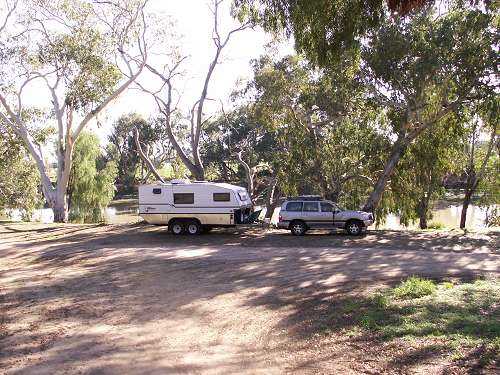 We fished, lounged caught a feed of yabbies, had some great campfires and some good camp oven meals too.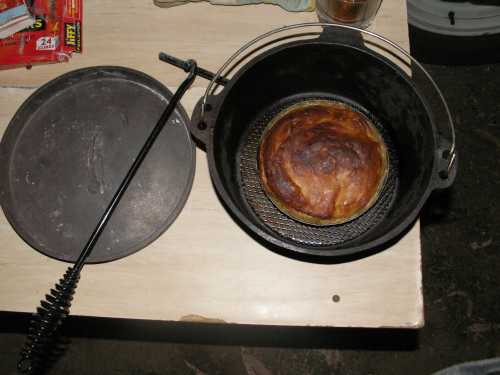 We stayed 6 nights before we slapped ourselves around the face and forced ourselves to leave and the day before we were to leave, 2 other Bushtrackers rolled in to stay. We put a batch of scones in the camp oven for lunch....with the usual Strawberry Jam and Cream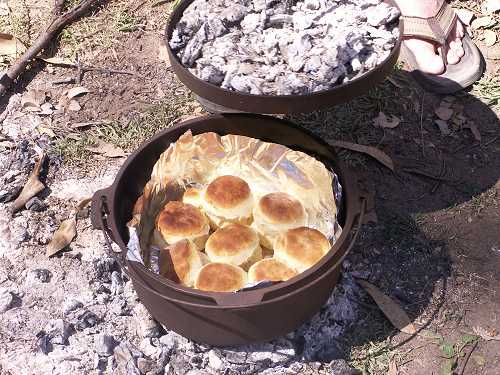 Don't you love this camping out....let's go....
Well, if we wanted to see the Channel Country, we had to go there and that meant we had to leave Fisherman's Rest. The Council CEO had visited us a few days earlier and had a photographer with her. They took pics of us camping and fishing for their web site....she also told us of the Chemical Toilet Dump Point in Mitchell at the Showgrounds. So we set of back into Mitchell to restock and visit the dump point...We found the showgrounds easily...asked for directions at the Hardware shop. The dump point was one sponsored by the CMCA and the council installed it...had a hose and tap next to it as well...GR8 to see this service in outback towns when you're travelling.
Well now, we decided to check out the campgrounds at Glenn Turner Weir before headed West and also re-fill our water tanks. The Weir is nice with green grass in the park...not for camping on and there were quite a few vans there and it had flush toilets and taps everywhere, but you can't camp right at the waters edge as we did at Fisherman's Rest. The water is bore water so we used our filters and took the taste out of it for our drinking water tank and then filled the 3 other tanks without the filters. While we were filling the second from the rear tank I noticed a lot of water running out and the overflow shouldn't be happening yet as I had just started filling that tank. Yep we had a leak...BUGGER...so I crawled under the van and found a cracked PVC Elbow on the delivery side to the pump.
So back into Mitchell...lucky it was only 3 k's away and the hardware shop really is very well stocked and I bought 6 elbows and hose clamps....always handy to have spares when the unexpected happens.
Back out to the weir and effect the repairs and finish filling the tanks.....so now...we're off at lunch time..not a real early start by any means...not that we're noted them anyway....so what's the rush...it's supposed to be a holiday.
We got as far as Augathella that night and took a powered site at the caravan park...check in and pay at the BP over the road. We took the powered site as we were having Battery Charger problems and wanted power to do some tests. We shared the park with a couple from Caboolture who used to live and work at Kakadu for 25 years....Caboolture...all of 7 kilometres from our house...you travel a thousand k's out bush to stay at a bush caravan park where the only other campers in it are from up the road from you....
Well, charger problems behind us, we left at lunch time again and went through to Tambo to get a Tambo Teddy....shop closed...no Teddy for us, so on to Blackall.